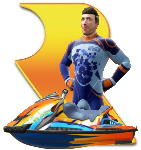 Top 5 Wake Racing Strategies Guaranteed to Show Up Your Rivals
With the full-scale version of
Kinect Sports: Rivals
underway for release in Spring of 2014, the
Preseason
rendition of Wake Racing brings Harbor Trail to the
Xbox One
to tide us over. You'll have the rest of November to earn yourself some exclusive prizes before December offers some festive rewards, but if you're like us then you'll be looking to master the sport inside and out all season long. Since its release, we've been skimming the surf, hugging the curves and kicking our engines into overdrive in an effort to discover the best tips and tricks that will have you smashing old records and serving up the competition! These are the
Top 5 Wake Racing Strategies Guaranteed to Show Up Your Rivals
.
---
#5. ROCKET AHEAD OF THE PACK WITH AN EXPERTLY TIMED 'PERFECT START' BOOST!
---
If you're looking to put some serious space between your competitors, you'll need to charge up your Boost Icon as you race about Harbor Trail, and use it to blast ahead when the time is right. To start things off with a bang however, you can also take advantage of a 'Perfect Start' which allows you to utilize a boost as soon as the race begins. Unclench your fists as the countdown appears and get ready to snag the pantomime handlebars as soon as the countdown reaches the number 1. You'll be rewarded with a spectacular lead with a 'Perfect Start' worth +300 points. If you're slightly early you'll have a shorter burst called a 'Start Boost' worth +150 points. These points contribute to your next boost, so start early and leave the competition far behind.
---
#4. STAY ON THE INSIDE TRACK AND TAKE ADVANTAGE OF EVERY SHORTCUT YOU CAN MANAGE
---
It's likely that gravitate towards the novice routes throughout Harbor Trail as they're more forgiving when it comes to hairpin turns and wide berths. When it comes to trouncing your previous scores and setting a new Lap Record however, every second counts. Do everything you can to stay along the inside track and you'll shave serious time from the safe and familiar. Areas like the sandbar after the first ramp demand accuracy, and if you drift into the grit and shallow shores you'll lose your momentum for sure! Keep your nerves steady, your reflexes agile and your Wake Racer afloat to master these all-important curves. Once you've managed to break your old tried and trusted habits and the shortcut becomes second nature, you'll leave any and all that attempt to emulate your style completely beached.
---
#3. LIVE DANGEROUSLY AND YOU'LL BULK UP YOUR BOOST ICON TO NEW HEIGHTS
---
It goes without saying that bobbing mines can be extremely volatile in
Kinect Sports Rivals
, but if you want to build up your Boost Icon quicker and potentially hinder a rival, you'll have to make the mines into bombastic bedfellows. Activating a mine by drifting next to it will provide +150 points, with the added bonus of triggering a potential trap for your struggling rivals. If you can manage to spot a mine that's about to explode, abandoning all logic and getting as close as possible without ramming into it will provide +500 points for a 'Close Call'. As you get more familiar with the proximity of the mines, you'll be able to string a few Crowd Pleasers together. Don't be afraid to execute a few flips on the choppy waters after the third gate; if you can activate the mines while you do so you'll build up your Boost icon faster.
---
#2. SHOW OFF YOUR SKILLS WITH SOME EXPERT CROWD PLEASERS TO RACK UP A KILLER COMBO
---
It goes without saying that a few Crowd Pleasing stunts can put you ahead of the competion, and while an 'Awesome Backflip' and 'Awesome Frontflip' are valued at +300 apiece, a bit of modification to leaning back and forward will send your Boost icon into overdrive! Lifting one arm into the air as you lean back or forward will be classified as a 'One-Hand Backflip' and 'One-Hand Frontflip' worth +500 points respectively. Lifting up both arms will register as an 'Unchained' rendition, earning you +500 points if you can manage to let go of your Wake Racer altogether. Return to your original pose before you manage to splash back down and you'll earn a further +150 points for a 'Perfect Landing' as well as the default +150 points for 'Sweet Air'. Master these tricks and you'll be tapping into a Speed Boost before anyone else.
---
#1. OPTIMIZE YOUR GARNERED SPEED BOOSTS AND POWERPLAY YOUR WAY TO THE TOP!
---
It all comes down to this - every Crowd Pleaser executed, every mine activated and every lap conquered goes towards your Boost Icon so that you may unleash a 'Speed Boost' to send you rocketing ahead of your rivals. Unfortunately if you haven't gotten a handle on your Wake Racer this could be enough to send you into screaming to the shore, so many Wake Racers opt to save their 'Speed Boosts' during a straight-away. If you squander the opportunity to utilize the 'Speed Boost' after a string of heavy combos, you'll miss your chance at a 'Powerplay', which adds a further +300 points to your recently drained Boost Icon. Given that any tricks performed in the interim while a Speed Boosts waits to be used are wasted, the 'Powerplay' maneuver loads you up for the next Speed Boost with a bit of timely incentive.
Categories: Kinect Sports: Rivals, Top 5 Lists