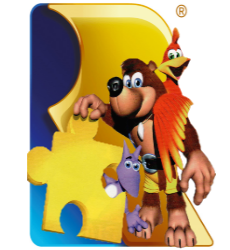 Top 5 Unforgettable Banjo-Kazooie Memories (Banjo Theme Week)
While
Rare Replay
celebrates its second month anniversary, iron-clad classic
Banjo-Kazooie
is nearly twenty years old - just enough to earn a theme week all its own! Since Monday,
Rare
have taken to their social channels posting unseen artwork, prizes and behind-the-scenes goodness dedicated to the bear and bird duo, and as the week comes to a close, the Twycross-based lovelies have posed the ultimate question to any self-respecting Banjo fan; what are your #Banjomemories? We've decided to narrow down the top five most significant memories that still make
Banjo-Kazooie
a joy to play all these years on. If you're just getting acquainted with the celebrated series through
Rare Replay
, or you've been along for the adventure since June 29th 1998 - join us as we recollect the
Top 5 Unforgettable Banjo-Kazooie Memories (Banjo Theme Week)
!
---
#5. REMEMBERING A CHIEFLY BRITISH SENSE OF HUMOR - BANJO-KAZOOIE (N64)
---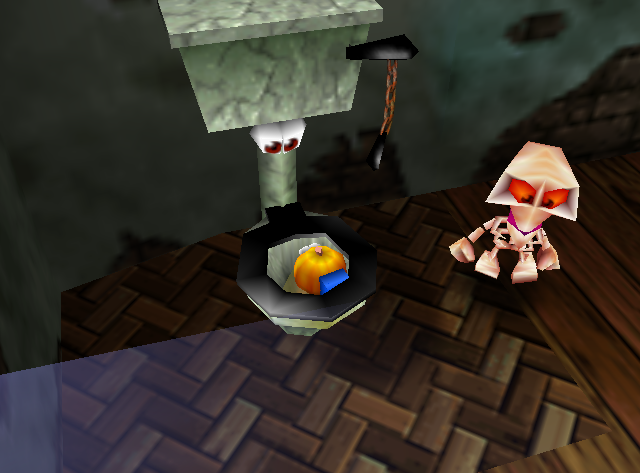 While it's arguable that the bear and birds second offering
Banjo-Tooie
provided a more wry and cynical approach that defined the duos dynamic, the humor found in the original
Banjo-Kazooie
adventure merged overwhelming charm and rapier wit to create something truly special.
Kazooie
's cheeky banter and
Gruntilda
's contemptous rhyming still ressonates strongly with us, a true testament to the polish that even the most minor details were afforded. While
Banjo
is largely character driven, humor can even be found throughout the gameplay and during the cutscenes; whether you found some laughter flushing a Pumpkin down the sentient toilet in Mad Monster Mansion or forgetting to defeat the witch with a premature celebration, it's clear that
Rare
's quirky style of comedy found a home in
Banjo-Kazooie
.
---
#4. REMEMBERING A SENSE OF PANIC, WILLS AND NERVES OF STEEL - BANJO-KAZOOIE (N64)
---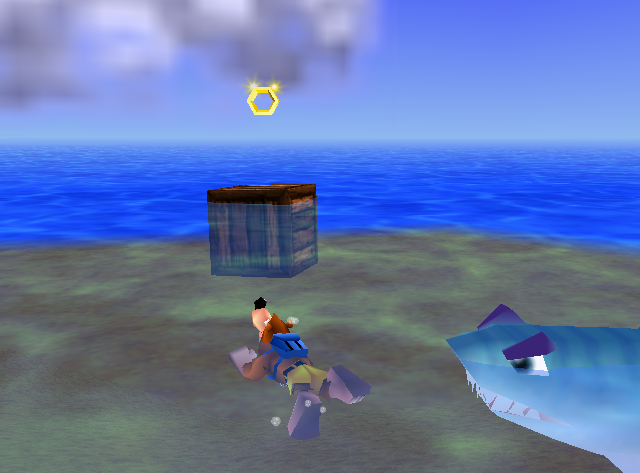 If
Rare
sole intention was to instill gamers with a fear of inviting waters in the ninteties as Spielberg had done in the seventies, their aspirations would have been met immediately with Snacker the Shark in Treasure Trove Cove. Escaping the shores brought with it later tales of terror found in King Sandybutts ominouus time trial Tomb and the depths of Clanker's Cavern bringing with it high strings, high stakes and very little oxygen. We remember these moments hinged on the edge of our seats, teeth gritted, palms sweaty just trying to make it that much closer to shore, to the exit and to Gloop's interminably sought-after bubbles. There's very little reward without risk, and
Banjo-Kazooie
used these moments to keep us on our toes, to allow us to take in the adventure and immerse ourselves into the world.
---
#3. REMEMBERING THE UNEXPECTED AND THE AWE-INSPIRING - BANJO-KAZOOIE (N64)
---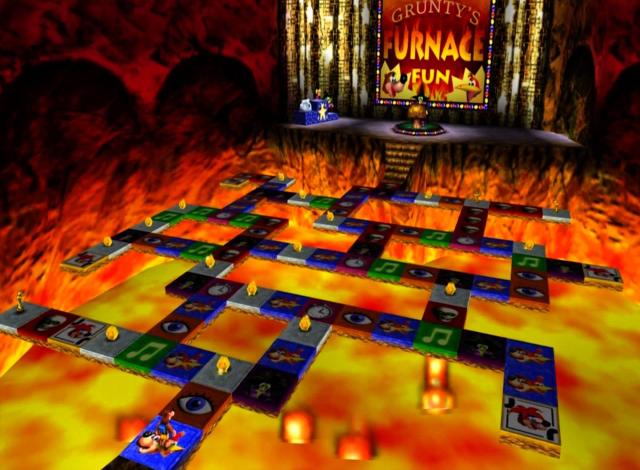 When
Banjo
's sister found herself kidnapped, we were ready to pursue the witch deep into her Lair, have a gripping showdown with
Gruntilda
herself and have our eventual reunion with Tooty (see page seven of "So, you're rescuing a damsel-in-distress") but nothing could have possibly prepared us for the old hag to construct a traversable board game quiz show hybrid that excelled in both smashing through the fourth wall and shaking up the traditional formula with meta reductionism. Take our word for it, Grunty's Furnace Fun was a stroke of absolute genius that cannot be understated. Identifying past tunes, playing through bested challenges and answering some key Banjo trivia served as a perfect pre-requisite to the final showdown, and guarantees a sure-fire trip through nostalgia every time its played.
---
#2. REMEMBERING THE MYSTERIES AND SENSE OF WONDER - BANJO-KAZOOIE (N64)
---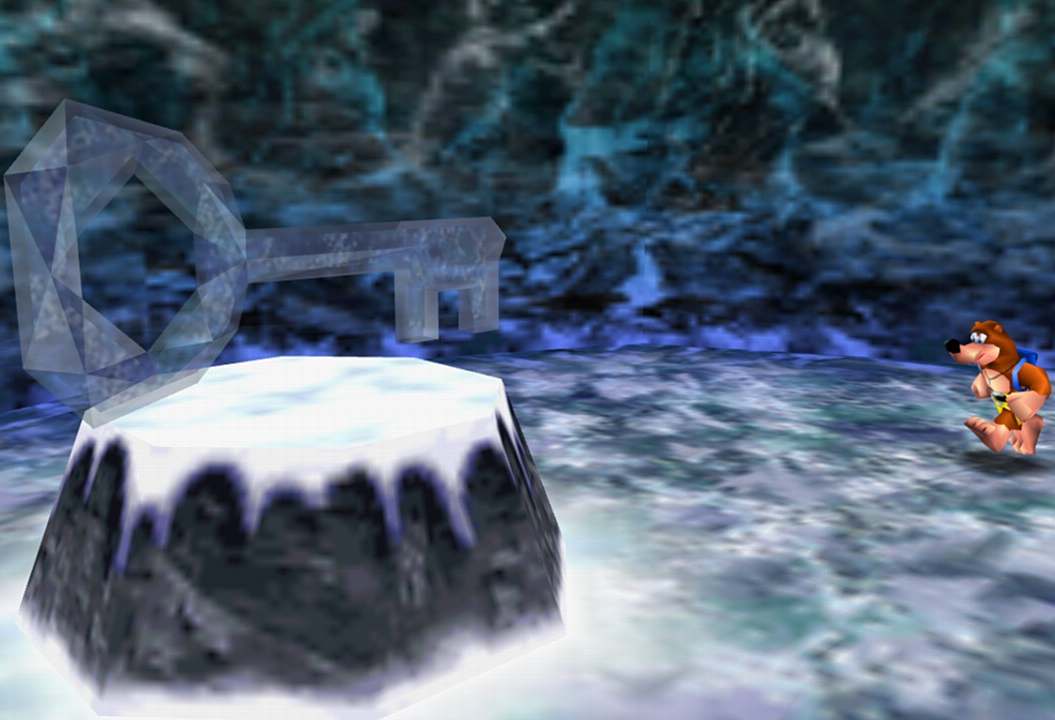 Unlike other conventional platform titles released alongside it,
Banjo-Kazooie
features several collectibles that aren't intended to be gathered on first sight. The infamous Ice Key, spinning just out of reach spurred countless theories and baseless speculation amongst fans, with "Stop 'N' Swop" earning a legacy all its own independant of the bear and bird duo. While a proposed solution has been made possible in
Banjo-Kazooie: XBLA
and latterally
Rare Replay
, there seems to be no quelling the thirst for the potential of this scrapped feature. While there has been healthy ribbing in
Banjo-Pilot
,
Grabbed by the Ghoulies
and
Banjo-Kazooie: Nuts & Bolts
it's likely that Stop 'N' Swop will forever remain a mystery, adding to the endearment that both
Rare
and the fans have paid to the series for so long.
---
#1. REMEMBERING THE LOWEST LOWS AND THE HIGHEST HIGHS - BANJO-KAZOOIE (N64)
---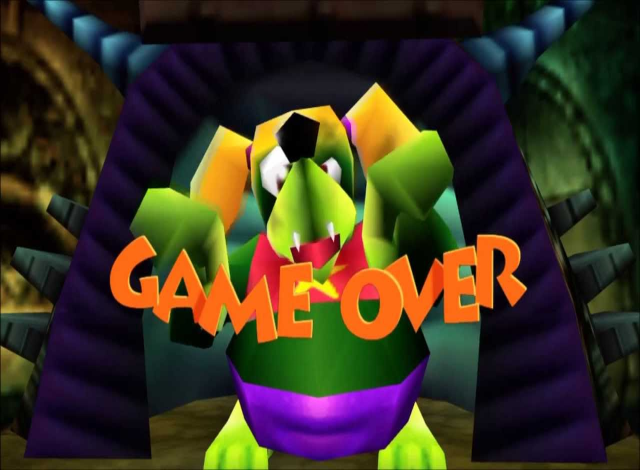 The Engine Room in Rusty Bucket Bay and the ludicrous speed of Mr. Vile is enough to send any
Banjo-Kazooie
fan reeling, and while at times
Banjo-Kazooie
may have been overwhelming for some, the white knuckle endurance tests sprinkled throughout the title is equally treated with moments of regular accomplishment. Getting Kazooie airborne for the first time via the crows nest in Treasure Trove Cove, summoning the Jinjonator at the top of Grunty's Tower escarpment, using the Talon Trot to scale the previously impossibly steep slope to the first note door, collecting all 100 Jiggies and 900 Notes after hours of searching through every last nook and cranny. These experiences form the whole of
Banjo-Kazooie
and allow us to look back fondly on an era when the bear and bird truly reigned supreme.
Categories: News, Top 5 Lists