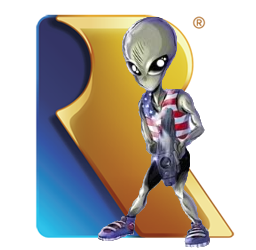 Top 5 Most American Moments in Rare Games
Welcome back! A lot has certainly happened in Rare town since our last countdown; Sea of Thieves Insiders got a chance to uncover some buried treasure, the Sea of Thieves Inn-Side Story series has entered double digits and the Tales from the Tavern Podcast finished off December with a particularly festive episode. Oh! Something else noteworthy happened outside of our usual focus as well. It wasn't a yuge story, but the United States of America decided to fill some time this year by promoting a sentient orange sporting a comb-over as the leader of the free world. As the official inauguration is just a few days away, we've decided to take some time away from staring in abject shock and horror to take a look back at the partiotic means that Stars and Stripes that have made their way into Rare's titles of yesteryear. Let's make Rare Gamer rate again: These are the Top 5 Most American Moments in Rare Games!
---
#5. LAND OF THE FREE, HOME PLATE OF THE BRAVE - KEN GRIFFEY, JR.'S WINNING RUN (SNES)
---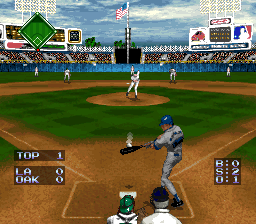 While the United Kingdom may be more familiar with the sports of Cricket, Football and Rugby, Ken Griffey, Jr.'s Winning Run may seem a rather curious development for Rare to pitch in the mid-nineties. However, in just a few innings it's made clear how well the team managed to replicate 'America's favorite pastime' with its original MLB teams, World Series offerings and Exhibition Challenge! Each ballgame begins with a 16-bit rendition of the U.S. National Anthem, and each stadium features a number of flags billowing above the action; visit Coors Field for a massive offering that towers over the pitcher, or go for quantity at Yankee Stadium where 15 flags surround the diamond. Hitting a homerun will bring you even closer, with a Star-spangled scene prepared for the occasion!
---
#4. IS THERE ENOUGH ROOM FOR A BALD EAGLE LEGION? - KINECT SPORTS RIVALS (XBOX ONE)
---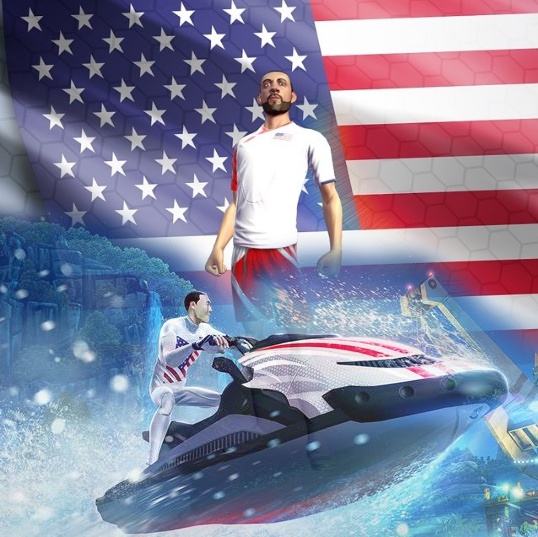 If you're looking to showcase a bit of national pride as you take on all competition in Kinect Sports Rivals, look no further than the Summer of Sport campaign which sought to bring your seasoned Champion onto the worlds stage. A quick visit to the locker room would allow you to customize all aspects of your uniform with Stars and Stripes, from a fitted 'Old Glory' wetsuit for Wake Racing to a 'Red, White and Blue' Tennis polo shirt. Match it all up with a sleek Wake Racer bearing the American flag introduced in the Preseason: International Champions addition and you're all set to represent as you rip through the waves! If you'd like to immortalize your Champion further, you can even set up a patriotic photo-op in the Gallery where yet another flag can be found as a backdrop.
---
#3. A CROSS-COUNTRY RACE THROUGH THE WHITE HOUSE - MICKEY'S SPEEDWAY USA (N64)
---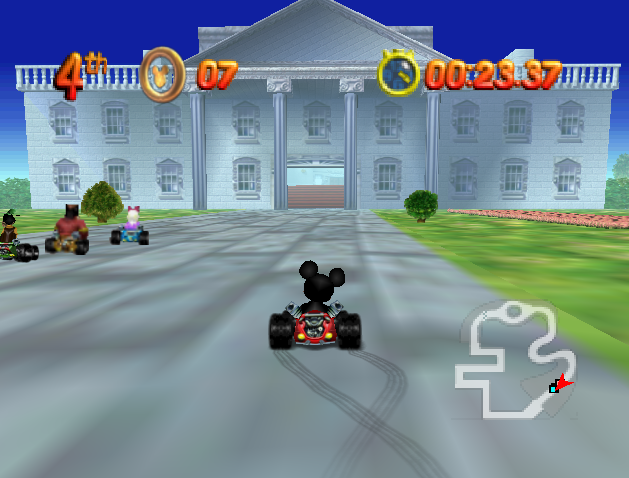 Released at the turn of the millenium alongside Game Boy Color title of the same name, Mickey's Speedway USA was a roadtrip contained within a cartridge. Taking in the sights of twenty-one States including New York, California, Texas and Las Vegas, Mickey and his friends will leap over the Grand Canyon, brave the frigid climates of Alaska and wade through the marshes of the Everglades in an effort to rescue Pluto from a gang of nefarious Weasels! The crowning jewel in this grand prix took place in Washington D.C., where an addictive battle mode and a race track was set inside the property of the White House, the latter allowing Mickey and the gang to burn rubber through the hallowed halls of the President's house! Try that these days and you'd hit a wall for sure!
---
#2. PERFECT PATRIOTIC AND PRESIDENTIAL PERKS - PERFECT DARK (N64/XBLA)
---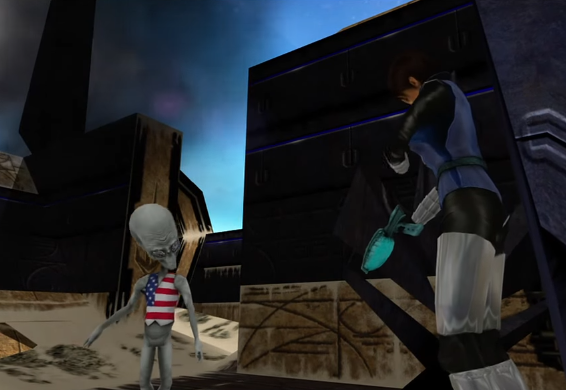 Set in the not-too-distant future of 2023, Agent Joanna Dark finds herself swept up in a world of corporate espionage, extra-terrestial meddling, and for the inclusion in this list, a mission of international importance regarding the future President of the United States! After a successful mission inside Area 51 lead to the rescue of a diplomatic alien calling 'Elvis', Joanna is tasked with infiltrating Air Force One and ultimately protecting the President from being cloned by dataDyne to gain global control. Ever the professional, Joanna manages it all in spades, leaving Elvis to become enamored with all things Americana after meeting the rescued President for himself. So much so that any future missions with Elvis have him showing off a Red, White and Blue vest, the pint-sized patriot.
---
#1. SEEK TWO TERMS IN OFFICE OR ITS A COMBO BREAKER - KILLER INSTINCT 2 (ARCADE)
---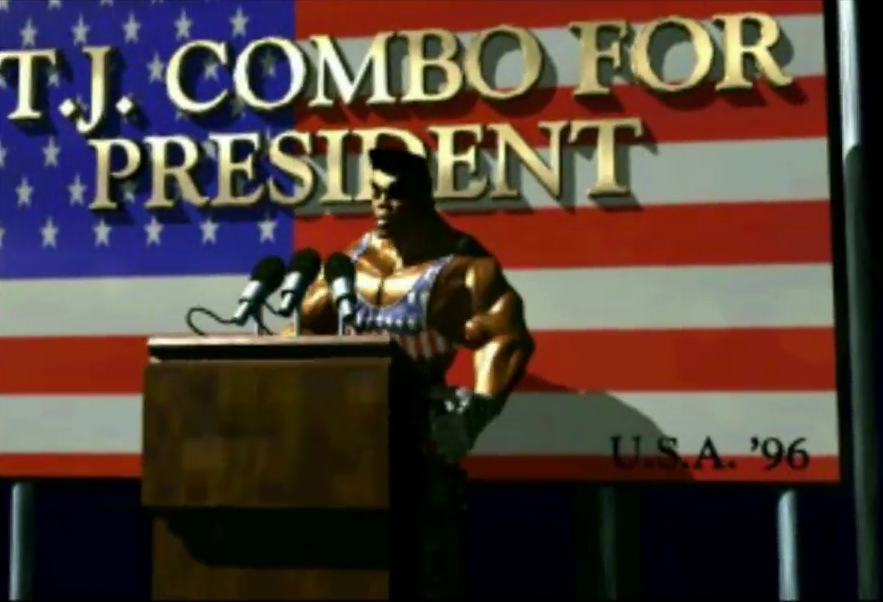 While Orchid may have been sporting some Stars and Stripes in the most recent Killer Instinct title on Xbox One, T.J. Combo has been setting the trend in Arcades across America for nearly two decades prior. Clothed in a Star-spangled banner with matching footwear, his passions were only known for those who could beat both Arcade titles. In the original Killer Instinct title, it would seem that fame and fortune was enough, but his epilogue in Killer Instinct 2 revealed a bombshell: T.J. Combo was running for President! While his ambitions would never reach fruition, in part due to being too young to officially take office, we have to question: If America's future was in the hands of a time-travelling boxer who defeated two demonic overlords, would it be in any worse shape than it is right now?
Categories: Top 5 Lists