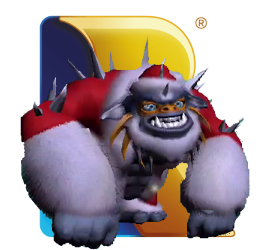 Top 5 Best Ways to Celebrate Christmas in Rare Replay
Already making a name for itself with an alternative festive jingle with the impressive
Festive Rehash
,
Rare Replay
is filled to the brim with enough yuletide cheer to tide you over well into New Years! We're unwrapping the best presents found in
Rare
's mammoth 30 year spanning collection, looking for appropriately Christmassy sights and sounds and then serving up our findings straight to your face like a
Grabbed by the Ghoulies
Christmas Pudding. Hang the stocking, dash through the snow, and roast some more chestnuts on an open fire - these are the
Top 5 Best Ways to Celebrate Christmas in Rare Replay
!
---
#5. FROM MUMBO'S WORKSHOP TO SANTA'S WORKSHOP - RARE REPLAY (XBOX ONE)
---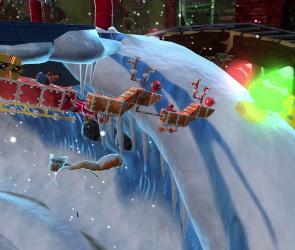 Following the release of
Banjo-Kazooie: Nuts & Bolts
in 2008,
Rare's
Christmas Card
depicted
Mumbo
jettisoning across the sky in a custom-built Sleigh lead by an iconic (though rather blocky) group of Reindeer. With a little determination, and a lot of Showdown Town Crates, it's entirely possible to recreate your own version of Santa's Sleigh for personal use! For best results, use a combination of Large Jets and Balloons for lift, red painted headlamps for Rudolph's nose and then take the entire display over to the Freezeezy Peak exhibit in BanjoLand. The relentless snowfall from above combined with the oversized red and green Christmas lights dotting the surrounding area creates an ideal holiday scene that turns Banjo into Santa!
---
#4. TRANSFORMING KAMEO WITH A LITTLE CHRISTMAS MAGIC - RARE REPLAY (XBOX ONE)
---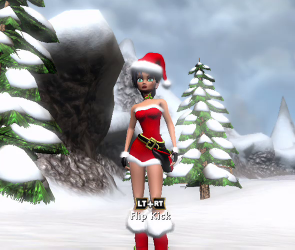 Provided you've managed to rescue all of the Elementals in
Kameo: Elements of Power
, this festive treat is best chilled in the winter wonderland of Snow Top Village where the complimentary 'Winter Warrior' pack provides
Kameo
's transformations with holiday apparel. Go straight for the Milk and Cookies with Santa Claus
Chilla
, Reindeer
Ash
, Snowman
40 Below
and a Sleigh-bound
Thermite
. Get in some Christmas decorating with Mistletoe
Pummelweed
, Bauble
Rubble
and Christmas tree
Snare
, and then tuck into Christmas Pudding
Major Ruin
, Christmas Cracker
Flex
, and
Deep Blue
in gaudy Christmas Sweater and Party Hat combo! Even
Kameo
gets to change into the holiday spirit, with a rather skimpy Santa one-piece!
---
#3. SEASONS BEATINGS FROM THE BATTLETOADS ARCADE! - RARE REPLAY (XBOX 360)
---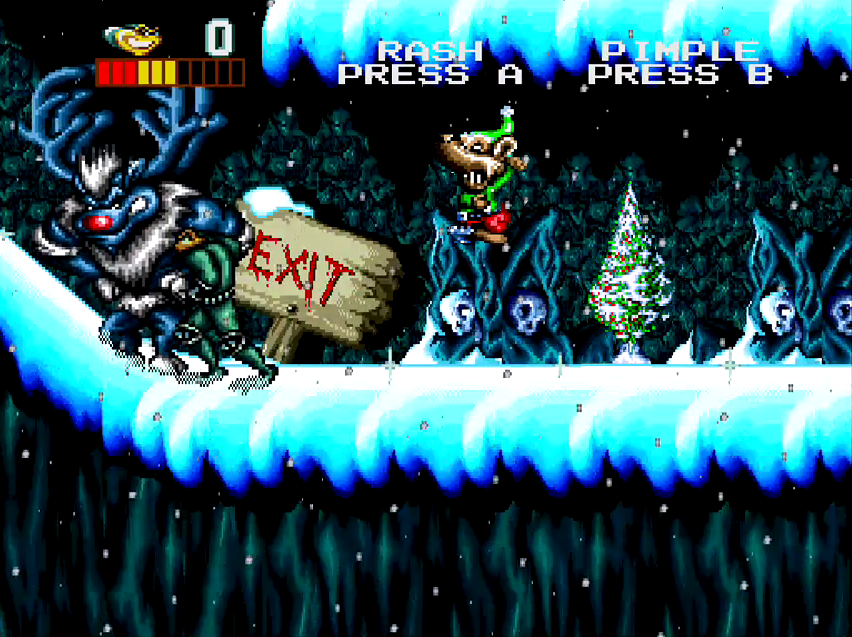 Thanks to
Rare Replay
, the entirety of the
Battletoads Arcade
cabinet has made a faithful transition to your Xbox One, including the oddly surreal Ice Grotto stage that gave us a new definition for decking the halls. As
Rash
,
Pimple
and
Zitz
charge out into the snow, they're met with a toadally rockin'
Christmas Tune
complete with jingle bells and shreddin' guitar licks. It's anything but a silent night during this stage however, as the 'Toads will need to contend with divebombing Scammies dressed as Santa's Elves, and sinister looking Snowmen that will disguise themselves as part of the festive scenery. Tie the entire thing together with a stampeding
Rabid Roodolph
Reindeer mini-boss and you've got a bona-fide Holiday Slamfest!
---
#2. THESE SNOWBOUND PIÑATA'S WILL BE HOME FOR CHRISTMAS - RARE REPLAY (XBOX ONE)
---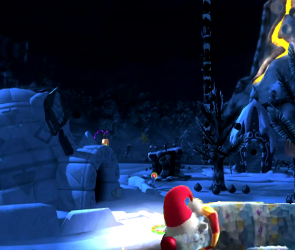 The snowy addition of the Piñartic region in
Viva Piñata: Trouble In Paradise
will allow avid gardeners to track down illusive Piñata's that prefer the cold - satisfy their resident requirements and you'll have your garden looking like the North Pole! Constructing homes for the Robean and the Moojoo Piñata is also recommended, as they'll appear as a Stocking hung over a fireplace and a Gingerbeard house surrounded with Candy Canes respectively. You can even give the entire space a heavy dusting with your snow packet and plant some Holly bushes and Snowdrop flowers for a wintery treat. Finish it all off with Santa Hats from Costalot's and you'll have created a spectacular garden beaming with holiday spirit all year round!
---
#1. CHRISTMAS WITH A BEAR AND BIRD, DOESN'T SOUND QUITE SO ABSURD! - RARE REPLAY (XBOX ONE)
---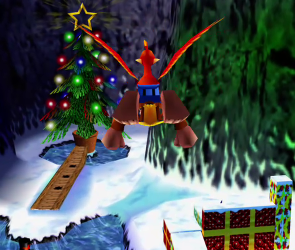 While it did take place in the obligatory snow level every 90's platformer had to include by law,
Freezeezy Peak
shook things up like a snowglobe in a paint shaker with an overwhelming tribute to the Christmas holiday that still raises eyebrows today. Tasked with stringing up sentient lights in an oversized Christmas Tree, collecting scattered presents for Boggy's neglected cubs and scaling the central snowman that towered over the sleepy mountainside village below,
Banjo
and
Kazooie
were living through about a hundred holiday tropes before they had even seen their first Jiggy. There was just something truly magic about the duos first foray into this holiday themed world that we haven't managed to shake since
Banjo-Kazooie
had its debut in 1998.
Categories: Member Discussion, Top 5 Lists