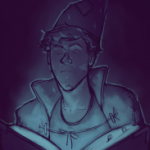 Storybeasts Interview
Those of you out there over a certain age will smile fondly when I mention the 1993 Amiga game 'Simon The Sorcerer' by
AdventureSoft
. A point and click adventure in the same vein as 'The Secret Of Monkey Island', 'Simon The Sorcerer' differed because it lampooned all the fantasy stories that other games were so keen to copy by offering a parody of all the tales we know and love. Simon, the star of the show, is a sarcastic know-all, ready to fire off an insult or a joke at the many characters he meets. It was a great game; very funny and engrossing to boot. It was a lot of fun and many a night was spent hunched over my Amiga playing it. A sequel came out a year or so later, accompanied by a PC version of the first game that added a full voice cast to the proceedings (The Amiga original only had music and text). British readers growing up in the 90s will immediately recognise the name Chris Barrie, star of Red Dwarf and The Brittas Empire, who provided Simon with his voice in the PC version. AdventureSoft sold the rights to Simon after the third game (an ill-fated attempt to make Simon into a 3D adventure game; moving away from its point and click roots did it no favours) and there have been two more Simon games since then, but I think it's fair to say that only the first two have enjoyed any kind of success. It seemed that this was it for Simon and we would not be able to enjoy any of his adventures again, but then I heard some wonderful news. A developer called
Storybeasts
had got hold of the rights to make a new Simon game, aiming to keep it very much in line with the first two games, but using the advantages of modern gaming development to bring Simon right up to date. The new Simon game has got me very excited. It's so great to hear that Simon will be returning in an all-new adventure. I got in touch with Claudio Medina, Lead Designer at Storybeasts, to find out a bit more about it.
Rare Gamer: Please could we run through the members of Storybeasts. Who's who and how did you all meet? Are you all new to game development or have you worked for other game developers previously?
Claudio Medina: It's a mixed group of recent graduates from several game institutes and a few more experienced developers. The core development group is based in Dublin, Ireland, while a few others like our composer Benjamin Raphael, best known for games like Detective Grimoire, are scattered through the globe. Initially, we got together because of the Simon project, but our passion for adventure and story driven games is already turning the wheels for some exciting stuff in the future.
RG: How did you wind up working on 'Simon The Sorcerer'? Did you go out to get the license or did someone approach you to make it?
CM: We went out to get it! Hah. Me and my brothers were reminiscing on the series and all of the fond memories of it we had together. We talked about the poor reception from the last Simon games and thought the series deserved better. I had met so many talented persons in the last years, like our writer Dave McCabe, who is also working for
Greenheart games
, and has a writing style and sense of humor that fits the series so well. I got in touch with this group of people and asked them if they were willing to pitch an idea for a new Simon to whoever had the license. It was a long shot, but everyone was willing. We contacted Mojo Touch, who were working on the recent 20th Anniversary Edition of Simon 1 and Simon 2, and through them we got in touch with Mike Woodroffe. He asked us to work on a solid proposal and after months of exchanging ideas and some initial concept art, we got it in. We were incredibly lucky to have been trusted with this.
RG: Did you all play the Simon games back in the day? What was it about Simon in particular that made you want to make this as your first game?
CM: Yes! We did. The founding members at least! We've been asked this before and it's never easy to respond. Obviously there's a lot of nostalgia around it, there's no denying it. But I suppose it was a mix of just having the extraordinary opportunity to work with AdventureSoft and working on a series that offers endless comedy options with it's witty protagonist and fairy tales/modern culture blend.
RG: Does the game have an official title yet, or will it be simply known as Simon The Sorcerer?
CM: It does have a title, but we want to make that announcement very soon. Keep an eye on our Twitter and Facebook page!
RG: The game is in early development, but when did that begin and what stage are you at now?
CM: Negotiation and pitching with AdventureSoft and our mobile partners, Mojo Touch, started by the end of last year. It was not until two months ago that we officially started pre-production though. Most of the writing is done and the engine and framework is set, so production launched a few days ago as we put all the pieces together.
RG: Will the game take the form of the first two Simon games and be a point and click adventure, or are you going in a different direction?
CM: Definitely following the footsteps of the first two Simon games. We're working on a complete 2D game that remains true to the original British humour and
some
of its nonsense. I say some because we're also focusing in refreshing the gameplay a little bit and make for some more coherent puzzles. Times have changed a bit and we're sure players will appreciate a bit more of logical thinking and some of the new gameplay mechanics we're introducing. Don't worry! Everything is still very much point and click.
RG: It's been twenty-odd years since the first Simon game. Where do we join Simon in this new adventure? Is he still a sarky teen or is he now an even sarkier middle-aged man?
CM: Indeed, twenty years have passed in Simon's life, and it just hit him that he is very much in the same place he was twenty years ago. So although he remains as incompetent as ever, he is less of a know-it-all and going through a crisis in his life when things happen 😉
RG: Have you spoken with the original makers of the Simon games about your new title? Have they provided any input into what you have planned?
CM: We're working closely with AdventureSoft. They are definitely more involved than in the last two projects and are providing their guidance and supervision for this new installment.
RG: When is the game scheduled to be released, and what formats are you looking to release it on?
CM: It's too early for us to give a definite date. We're going for a simultaneous release in Windows and mobile platforms (IOS and Android), followed closely by a release in Linux and Mac OS.
RG: Fans will remember that Simon was played by Chris Barrie originally. What is the plan for the new game? Will Simon have a voice, and if so who will be playing him?
CM: Actually, we just got great news on this. We've been in touch with Chris through his agency and he is interested in voicing Simon again. Getting Chris on board was a top priority for us and we're delighted that he may be back on the series. Nothing set on stone yet, but we're almost there.
Huge thanks to Claudio Medina for his time.
Categories: Interviews