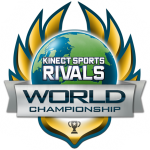 Get Ready To Face The World in the Kinect Sports Rivals World Championship!
Do you have what it takes to represent your Country in
Kinect Sports Rivals
this April? You'll need to shred up some surf in Wake Racing, get a firm grip on Rock Climbing, and knock them down with a bit of Bowling to come out on top and participate in
Rare
's latest global competition. Register your Xbox One account at
https://www.ksrchampionship.com/
for our chance to enter, once
Kinect Sports Rivals
is released worldwide you'll have a chance to set some scores and dominate the competition in your country and the world. The best competing gamers that top their regions leaderboards will be flown down to the San Diego Comic-Con on July 26th to face off against each other with a worldwide showdown. You can find out more details including the
prizes
,
rules
and
more at
http://www.ksrchampionship.com
.
Categories: Kinect Sports: Rivals