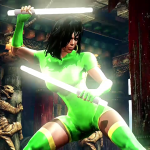 Killer Instinct Classic Skins – B. Orchid's retro look is given the Green!
As anticipation builds for
Killer Instinct
's Second Season,
Double Helix
and
Rare
aren't about to let the impending arrival of
Spinal
detract from the roster of proven fighters. Case in point,
Orchid
was the first to receive a classic makeover that harks back to her debut arcade outfit, with the extra inclusion of Jazzercize accessories, Cowgirl ensemble and Spy paraphernalia to keep things interesting. If you've managed to get your hands on the
Ultra Edition
, these retro amenities will be waiting for you in the Customization Menu, along with any other bits you'd like Orchid to bare on the battlefield. Want to see Orchid's new digs in action? We've managed to detract Lerako away from jet-setting about with his waveracer in
Kinect Sports Rivals: Preseason
just long enough to face the fashionable femme fatale off against button-mashing favorite, Sabrewulf! Check it out!
Categories: News